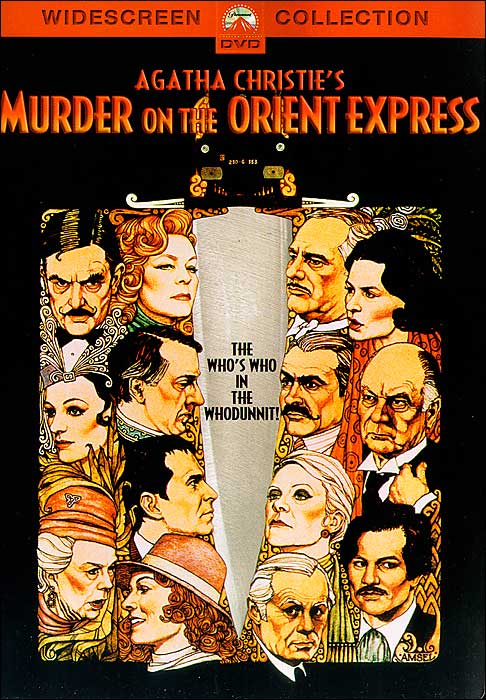 MURDER ON THE ORIENT EXPRESS (1974)
DIRECTED BY: SIDNEY LUMET
STARRING: (ready for this?) ALBERT FINNY, LAUREN BACALL, INGRID BERGMAN, SEAN CONNERY, SIR JOHN GIELGUD, DAME WENDY HILLER, ANTHONY PERKINS, MICHAEL YORK, VANESSA REDGRAVE, and RICHARD WIDMARK.
Let me open by saying that I am a die hard Agatha Christie fan. But I have never read this book. I have no idea why but there it is. I have read and re-read upwards of thirty of her novels without ever reading this one but I can be happy about that because it made the movie a pleasant surprise. Being familiar with Christie's plots and heroes (mainly Miss Marple and Hercule Poirot), I can't say I was really shocked by the story's signature 'twist', but it was nevertheless a wonderful ride. Christie adds such depth and strength of character to each of her players that the climax is really not the best part of her tales. It's the culmination of that climax following a slow-like-honey narrative which really makes the journey all the more satisfying.
Lumet really tried hard to bring Christie's style and cynicism to the screen. I just bought the book and haven't read it yet but I got the impression that he stayed quite faithful to the original story. After all, Agatha was noted as hating all film versions of her books excepting this one-which she felt was perfectly constructed. And how do you question that?
Hercule Poirot (Christie's recurring eccentric Belgian detective) is traveling on the Orient Express when a large snowfall slows the train's journey. Along the way, he becomes aquainted with many of the passengers, including a high-profile American businessman-Mr Ratchett. Ratchett confides to Poirot that he has been threatened due to his large bankroll and asks for his protection but Poirot, not accustomed to this type of responsibility, politely declines. The next morning, Ratchett is found brutally murdered in his train compartment and virtually every passenger on the train is found to have a motive. As Poirot questions each passenger, we become familiar with, not only their individual histories, but their strange and twisted connection with each other.
The opening sequence of this movie really surprised me. It's a bit abrupt and disturbing, using stark newspaper headlines and stills to outline a grisly crime. The crime is very quickly left behind as Poirot boards the train along with the other passengers and we almost forget it until it comes back full force during his interrogation. I felt that one of the movie's only weaknesses was the connection the detective was able to make between his suspects and this crime using very 'Macguyver-ish' means. I'm hoping the book sheds some light on this point.
The acting by everyone involved is, quite expectedly, brilliant. Albert Finney gained a large ammount of weight and a very delightful , over-the-top accent for the role. He portrays Poirot with the same understated wit that the books do, while adding a slight effluence of character for the sake of entertainment. A certain scene in which he is preparing for bed truly drives his eccentricities home while at the same time irrevocably displaying his humanity-thus endearing him to us. It's a great moment. Ingrid Bergman as introvert Greta Ohlsson is also extremely memorable and may provide us with one of the greatest performances of her career. The slight fading of her once distracting beauty works in her favor here since it allows us to truly see the brave actress that she is. With so many great great thespians in one movie, its hard to focus on individual performances. Suffice it say that each and every one of them shines in their respective roles. So much so that the wonderful ending, which I won't give away of course, is a great relief to the viewer.
There are very few great 'whodunits' anymore. They seem to have faded away with animatronics and gentle heroes. But this one was a great standard setter for the genre and hopefully more of today's directors will reaquaint themselves with it and allow it to influence their future projects. I think they'd find a very large and grateful audience.
My rating: 9/10