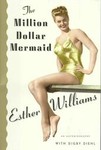 Itty Bitty Review:
MILLION DOLLAR MERMAID ((1952)
STARRING : ESTHER WILLIAMS and VICTOR MATURE
DIRECTY BY: MERVYN LERYOY
Just thought I'd stop in and say a few words about Esther Williams. She was magnificent. She was gorgeous. She accomplished things underwater that some dancers couldnt do on solid ground. And there is an entire Olympic event that is based solely on her unique abilities.
This movie is a 'biopic' about Annette Kellerman, the famed Australian swimmer who dared to wear a one piece swimsuit that hugged her body and was quite the pariah in proper society. Esther gives the character lots of spunk and a sweet smile while at the same time turning out some amazing underwater musical numbers that have yet to be duplicated or attempted. Storywise, this flick has little to truly grab you. However, it's worth seeing simply for Esther's uncanny underwater dancing and the gorgeous technicolor cinematography that would lift anyone's spirits.
My rating:7/10
*I'll probably be turning out alot of these mini reviews this month, as TCM goes into it's 30 days of Oscar and I catch alot of quality movies I've missed.